Multi-Color Touring/Bagger Motorcycle LED Light Kit
Regular price $274.95 $246.95 Sale
MULTI-COLOR TOURING & BAGGER MOTORCYCLE LED LIGHT KIT
Our most requested setup for baggers and touring bikes at an amazing price! This kit will light your bike from front to back.
Kit Includes
Five (5) - 21-Cluster multi color LED strips. Each LED strip is 50cm long (about 20")
Two (2) - Value Series Multi Color MEGA sticks for the front wheel
Standard Front Wheel Wiring Kit
PLUS Series Wireless Multi Function Remote Control with 2 - FOBs
Complete wiring kit with push button on/off switch, in-line fuse, promoter and installation instructions. Everything you need to install all the lights in this kit
Original Owner Three (3) Year Warranty on the LEDs and Controller
WIRELESS CONTROLLER OPTIONS:
ORIGINAL Controller: Our original model is rated to 100 LEDs - maybe more depending on your installation. That's enough to light most bikes front to back. Controller measures 2-1/2" x 1-3/4" x 7/8". This controller includes 2 RF wireless KEY FOBs.
PLUS Series Controller: Updated to handle more lights. Rated to 300 LEDs - maybe more depending on your installation. Perfect for those who want to light it all up and then some! This controller is offered with your choice of our popular RF wireless remoter (2 KEY FOBs included), our Bluetooth only wireless controller (use your own Bluetooth enabled smartphone) or our industry first COMBO Controller with provides both RF and Bluetooth capabilities in one controller. It measures 2-1/2" x 1-3/4" x 7/8".
OPTIONAL BRAKE LIGHT INTERFACE
We offer a BRAKE LIGHT INTERFACE on the PLUS version controller. The optional BRAKE LIGHT INTERFACE includes circuitry that when connected to the brake light circuit, will turn multi-color accent lights to red whenever the brakes are engaged. Its a great motorcycle safety feature to make sure you're seen. Based on our popular Multi-Function FIREWORKS controller, features include color switching, blending, strobe, breathing, and flashing functions. Includes two wireless RF FOB's.
Note: Our controllers have built in protection against overload, short circuit or reverse polarity situations. If it detects any problems the controller will shutdown and not function until the fault is repaired. While these are rated for a specific number of LED's your particular installation may affect the actual number of LED's you can run on these controllers.
If you prefer a WIRED controller option (vs wireless), we offer several alternatives to our wireless controllers. Here's a link to our WIRED CONTROLLERS. Let us know know you would prefer a WIRED controller and we'll adjust the price for you.
WHY UPGRADE TO BLUETOOTH?
With any of the Boogey Lights® BLUETOOTH controllers you can control your lights with your Bluetooth 4.0 enabled Android or IOS smartphone. These high-tech controllers are capable of displaying 16 million different color combinations (versus 7 with our standard RF remote). In addition, lighting effects on the Smartphone controller are signficantly more controllable in terms of speed and intensity. Each color and lighting effect is controlled by "sliders" or a color square on your smartphone screen so you can adjust the speed and intensity to get the lighting exactly the way you want it. Also, all of our Bluetooth Combo controllers include an RF remote control allowing for quick on/off of the controller. You can operate this controller with the included RF wireless remote (KEY FOB remote included) OR you can use your Bluetooth 4.0 enabled smartphone and our free smartphone APP (Android and IOS). Also, with our new SERIES 2 firmware, you get our popular PROGRAMMABLE COLOR ROTATION feature that allows you to program which colors you wish to display and then have those colors rotate through a sequence you define. Bluetooth also gives you the ability to save up to three of your favorite color and feature configurations that can be recalled at the press of a button. We offer a variety of Bluetooth controllers for just about any application. We even offer a COMBO controller that includes both Bluetooth and RF remote control in one easy to use controller.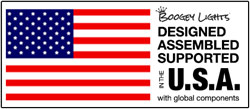 Typical Installation
Each strip has a wire lead on both ends allowing you to cut each strip into two pieces of 3-cluster multiples. We suggest measuring and laying out your lights before you cut the strips. On a v-twin the suggested layout for the lights is as follows:
Cut two strips into segments of 18 & 3 or 15 & 6 - depending on your bike. Install the longer sections on the bottom of the tank. One of the shorter pieces is installed inside the horn cover and the other behind the breather backplate
Cut one strip into a 15 & 6 or 12 & 9 - depending on your bike. Install the shorter section behind the engine on the seatpan, oil/battery box or frame downtube. Align it to shine on the rear of the engine. Take the longer section and install on the frame below the engine. Install on the inside of the frame so it won't be damaged by a jack or when loading onto a trailer.
Use two strips for rear lighting. Measure your saddlebag support frames to see what will fit. Cut and install on the bag frame support - not on the bag itself. Align slightly inward to light the pipes, rear wheel and ground. On some models that have a fender extension between the bag and fender you can cut one strip and install a segment on each extension. This blows the light down and toward the front of the bike. Use any leftover segments to further light the engine area.
Install one MEGA stick on the inside of each front caliper. Run the power lead up the brake line and back to the power source. On bikes with a single caliper consider using the second wheel light on the rear wheel. Looks nice!
This kit is easy for a do-it-yourselfer. Includes all you need other than a few hand tools. Just like the chrome on your bike, this kit is fully expandable and allows you to easily add additional strips in the future.
These lights will also work well on a Can-Am Spyder. Order some extra strips until you get the coverage you want.
NOTE: We always recommend dry fitting or temporarily mounting the lights before installation to make sure you get the look you want. The suggestions above are our recommendations. The final mounting location for the lights comes down to your personal preference. So put them where it makes sense to you and for your bike.
Sealed, Flexible Strips
The LEDs on our Value Series™ strips are completely sealed against the elements. They are heat resistant, waterproof and easily cleaned for a lifetime of maintenance free operation. The soft, gel-like strips provide maximum flexibility and a clean and sleek appearance. Their low profile design makes them virtually invisible when placed on the bottom of your tank and their wide viewing angle floods your bike with light.
Each strip has wire leads on both ends, allowing you to cut it once in a multiple of 3-cluster segments. With a total of 21 clusters per strip, you can cut the strip in the following sizes: 18 & 3-cluster, 15 & 6-cluster or 12 & 9-cluster strips. You choose based on the lengths you need for your application. When cutting a strip you will need to place a piece of the provided heat shrink tubing over the cut ends to make a watertight and insulated seal. Metric bikes with a large tank may need an entire strip under each side of the tank, whereas a typical Harley will take a 15-cluster under each side of the tank, leaving two 6-clusters to use behind your breather and your horn cover.
You can also use the entire strip without cutting it. You'll want to cut and seal the wire lead from one end if using the entire strip. Just make sure you cut only the wire and not the strip at that end. A wrong cut in the wrong place will void your warranty. Call us if you are unsure where to make your cut. We provide heat shrink tubing with each strip to seal the cut ends or wire. The Fireworks Value Series LED strips and controller are backed by a three-year warranty.
PLEASE NOTE:  Some of the colors of the Value Series™ Fireworks Multi-Color strips do not exactly match our Premium Series strips. You should not mix and match the Value Series and Premium Series products or you may not be pleased with the result. If unsure of which series you have, give us a call. We may be able to look up your account to confirm.
Installation Instructions
For instructions on how to install our Multi-Color Lights and operate your remote control please go to our Installation Instructions Page.